Note: Commissions may be earned from product links below. 🛈
---
It is finally time to set up a Home Lab / Home Server!!
When I started studying for my VCAP-DCV 2020 certification I decided that I needed a personal reward in order to improve my motivation, and what a better reward than a vSphere Home Lab, which apart from serving a couple of Home Server functions, would also enable me to practice and get my hands dirty with a wide variety of technologies I support and integrate for a living.
It is always a good practice in technology to create Proof-of-Concept environments when presented with design challenges. This helps to test & validate the product/solution being presented and make sure that it will actually solve or improve a business requirement, without trying to directly integrate into production environments. This is not always possible due to the extremely fast-paced environment businesses operate nowadays, however, being able to prepare beforehand in a non-production environment at home, will give me a great advantage.
The vast majority of today's data center solutions are software-defined, which means, they live in some kind of virtualized environment, and if it's not natively virtual, it is extremely likely that there's a way of virtually simulating its functions.
So, if all that wasn't enough excuse for me to set up a Home Lab, I don't know what else will… So let's get to researching down what (as of today) will meet my requirements…
---
Initial Basic Requirements:
Budget: $2,000
̶S̶m̶a̶l̶l̶/̶C̶o̶m̶p̶a̶c̶t̶
Silent (It will live on my home-office, where I spend between 8-10hrs on weekdays.)
Low to moderate power consumption
Enough compute power to run a couple of home servers and a vSphere nested environment.
---
Does size really matter?
During my initial research phase, I found that small platforms like the Intel's NUC line up are extremely popular in the vSphere Lab community, go ahead and throw a quick Google search and you'll find that the vast majority are rocking NUCs. So I ended up very interested in the Hades Canyon (NUC8i7HNK) and after reading a couple of blog posts I ended up a lot around virtuallyGhetto's looking at these posts:

– Update on running ESXi on Intel NUC Hades Canyon (NUC8i7HNK & NUC8i7HVK)
– GPU Passthrough of Radeon RX Vega M in Intel Hades Canyon
– 64GB memory on the Intel NUCs?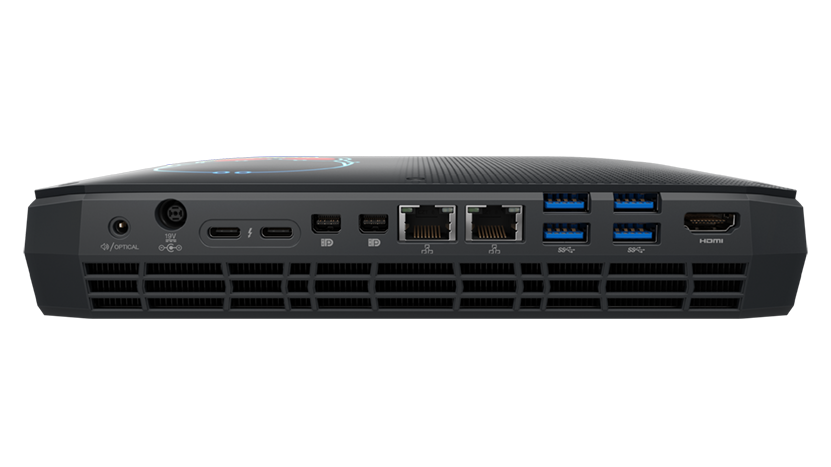 Up to 64GB of RAM in that cute little box? Sound awesome, however, when building my Amazon cart and adding RAM, NVMe Storage, and the imminent reality to having to buy a NAS to keep bulk storage apart from the actual NUC, the cost skyrocketed over my budget.
I immediately figured, If I'm going to spend around $2,000, I need to look for a more robust solution, and since I found that Ghetto's blog has a LOT of content related to home labs I kept searching and ended up falling in love with Supermicro's mini-server offerings. And guess what? A couple of these mini-servers are actually on the VMware HCL:
You guessed it, also disregarded… Don't get me wrong, these Supermicro mini-servers are also a great option. A lot more compute power, up to 512GB of RAM, lot's of ethernet ports (the E300 even has 10GbE), NVMe storage capable… But again, after adding RAM & storage, it goes over my budget and for a couple of days I give it a lot of thought and told myself; "Screw it, who cares about going a couple hundred above budget, it's a professional investment!"…
But then again, go over-budget and still have to buy a separate NAS, and almost no expansion capabilities limited by space/size?
---
Conclusion:
Yes, I'm just going to forget about the quiet & cute little boxes and build a tower server with lots of compute power and space for future expansion. It will have everything in one box without having to buy a separate NAS. Some of you will think that it is not ideal to put everything in one box, but remember, it's just a lab.
Note: I also considered the famous: "Just get a used server on eBay…", but (1) If I'm doing the investment, why take the risk of used hardware? (2) Most of the good and recommended options, where the performance to cost ratio are well balanced are dated/old technology where noise & power consumption are out of my expectations.
I'm going to take this into a series, since it's been such an extensive jorney:
̶v̶S̶p̶h̶e̶r̶e̶ ̶H̶o̶m̶e̶ ̶L̶a̶b̶:̶ ̶P̶l̶a̶n̶n̶i̶n̶g̶ (this post)
vSphere Home Lab: Hardware Selection (coming soon)
vSphere Home Lab: Single Host Design (coming soon)
vSphere Home Lab: [Comment and let me know what would you like to see next…]
You may have noticed I'm new to this blogging stuff, but if you like it so far and would like to see more coming, subscribe in the form below to get notified when I post more content.
---
Subscribe to get notified of new content!
Processing…
Success! You're on the list.
Whoops! There was an error and we couldn't process your subscription. Please reload the page and try again.
[Disclaimer]
The views and opinions expressed on this site are my own and do not reflect the views and opinions of my employer. Roberto Leon is a participant in the Amazon Services LLC Associates Program, an affiliate advertising program designed to provide a means for sites to earn advertising fees by advertising and linking to Amazon.com.
[Credits]
Photo by Startup Stock Photos from Pexels