Note: Commissions may be earned from product links below. 🛈
---
Kind of a late post, but I want to document this achievement in some way. On [3/16/2020] I passed the 3V0-624 exam and completed the requirements to achieve the VMware Certified Advanced Professional – Data Center Virtualization Design (VCAP-DCV Design 2020) certification.
This post is not intended to be a study guide or anything close, there are a lot of people out there that have done a great job on documenting their whole experience. I will indeed try to mention some of the resources I've bookmarked and link to other blog posts I got on my notes, but I honestly didn't have the opportunity to organize and document my rushed study process.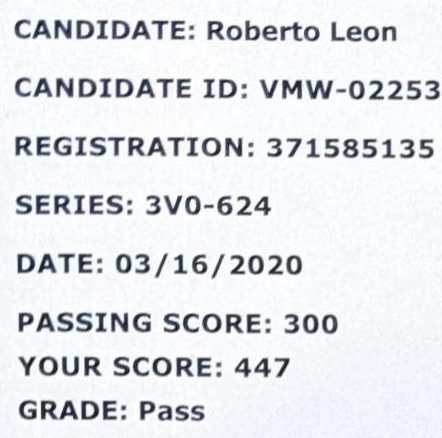 ---
Backstory:
I work with a wide variety of data center technologies, however, most of my background is related to virtualization. I've been holding the VMware Certified Professional – Data Center Virtualization (VCP-DCV) certification for a couple of years now, so moving to the VCAP in the same path was the obvious next step, however, I never had it on my immediate horizon, until a couple of months ago.
I have to say that our company is really well-positioned in the region when it comes to data center solutions, specifically regarding VMware. We are packed with an extremely experienced team and great leadership. We hold a nice share of competencies through our VMware Partnership, however, my boss realized that we only needed one more VCAP in order to gain our Master Services Competency (🛈) in Data Center Virtualization.
Guess who was nominated!?!? Double achievement!!!!

---
Exam Tips:
RTFM [Exam Preparation Guide] – This might sound obvious, but some times goes unnoticed and is such an important document. It's only eight(8) pages but packed with two of the most important things; (1) Exam Objectives and (2) Links to a lot of VMware documents & resources covering almost everything you need.
RCARs [Requirements, Constraints, Assumptions, Risks] – Please read every single document/post you find regarding these concepts, they are extremely important and you should understand them accurately.
AMPRS [Availability, Manageability, Performance, Recoverability, Security] – The same thing goes to these concepts, they are a bit easier to understand if you are constantly exposed to the design process, but if you're not used to it, make sure you feel confident when classifying into these categories. (Some people also call them RAMPS)
Functional requirements vs. non-funcional requirements – Still after passing the exam, I keep reading about this because it might get confusing in some scenarios.
Conceptual, Logical & Physical Designs – Get to know & understand design types, you don't need to look for VCAP specific resources, they are general design concepts, but you need to understand and be able to classify design components into their corresponding type.
Don't lock yourself to look for resources of a specific version of the exam, you'll be surprised at how helpful they can be since the design concepts apply regardless of the version.
Related to the previous point, I think it is important to mention, that if you have working knowledge/experience in designing technology solutions, it'll come much easier to feel comfortable with all these concepts. However, if you don't have the experience, rest assured that the materials you learn while studying for this exam will help you overall, no matter the type of solution.
---
Community Resources:
---
Related Books:
---
Subscribe to get notified of new content!
Processing…
Success! You're on the list.
Whoops! There was an error and we couldn't process your subscription. Please reload the page and try again.
[Disclaimer]
The views and opinions expressed on this site are my own and do not reflect the views and opinions of my employer. Roberto Leon is a participant in the Amazon Services LLC Associates Program, an affiliate advertising program designed to provide a means for sites to earn advertising fees by advertising and linking to Amazon.com.